Be at peace with yourself
Be at peace with your body
Peace Leads...Peace Creates...Peace Embodies
Here is my purpose…to help people manifest peace in their lives. Simple, right? Simple, but not easy – at least not in my experience. Still, there is a curious part of me that wonders how can I manifest peace in my life? What do I have to do? Read more here.
Honoring the connection of the mind, the body, and the spirit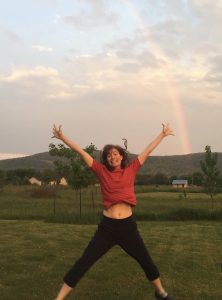 I don't know about you, but I don't always like to exercise. That's right! I'm a physical therapist, yoga instructor, personal trainer, health coach who could take-it-or-leave-it when it comes to running to nowhere on a treadmill while staring at a screen with a news outlet cycling through the 5 o'clock headlines. Don't get me wrong, some people love their treadmill and wouldn't exchange it for all the grande lattes in the world, but it really isn't for everyone. Yet I can feel pressure to make myself like it for the sake of raising my heart rate to that ideal range for 20 minutes 6 days a week. Then this happened. I was asked to play tag with my son and his friends after school on the playground. I was game…wow! That raised my heart rate to the levels experts say you need to maintain healthy cardiovascular health. And 6-year-olds are better motivators than any coach or personal trainer because they will NOT LET YOU STOP! After that first encounter, I started wearing my running shows to school pick-ups. I call this "Meaningful Movement" because it was precious joy laughing and playing with my son AND it exercised the ol' ticker! Win-win! Where can you find meaningful movement in your life? (photo credit: Adam Phillips-Burdge)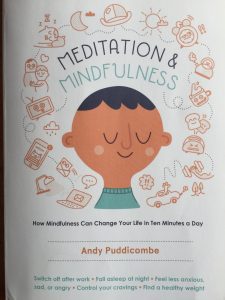 The Headspace Guide to Meditation and Mindfulness: How Mindfulness Can Change Your Life in Ten Minutes a Day
If you've shied away from trying meditation because it seemed like a bunch of voodoo hoo-ha nonsense, then this book is for you! Andy Puddicombe, a former Buddhist monk turned mindfulness expert entrepreneur and creator of the website "Headspace" explains all the nuts and bolts of meditation in an understandable, secular, and even humorous way. Andy explains in his book the purpose of his meditation business, "The idea was simple: to demystify meditation, to make it something accessible and relevant for modern-day living. Nothing kooky, nothing wacky, just straightforward tools that people could use to get some headspace." He accomplishes that goal, too. Puddicombe appreciates the nature of a busy mind that won't stop thinking because that was his experience when he began. With the tools that he outlines in his book, he was able to better address mental and emotional challenges such as confusion and grief. Puddicombe's book not only explains the approach, practice, and integration of meditation, but he examines its historical and scientific success through the measurement of outcomes. This book and the accompanying app are great references for both novice and mastered meditators. (The Headspace Guide to Meditation and Mindfulness: How Mindfulness Can Change Your Life in Ten Minutes a Day is published by St. Martin's Griffin, New York, 2011)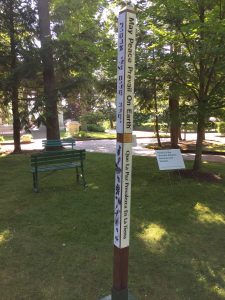 Five minutes. How often have you heard it said, "I can do anything for five minutes!" Every summer, for 9 weeks, people gather Monday through Friday for five minutes to pray for peace during the summer session of the Chautauqua Institution. A candle is lit and people gather in a circle around a peace pole with the phrase, "May Peace Prevail on Earth" in multiple languages. Then it is done. Some people stop to chat, others go about their day. So simple. So sweet. So powerful. If you think you could do "anything" for 5 minutes, then try praying for peace, or meditating on peace, or passing out peace signs at the park, or shaking someone's hand and saying, "Peace be with you." It's just five minutes. (Photo Credit: Ellie Phillips-Burdge, Chautauqua Institution, Chautauqua, NY).
Like what you see? Sign up for my newsletter delivered to your inbox with blog updates, wellness tid-bits, and information about the services I offer.